HARMONY HOMESCHOOLERS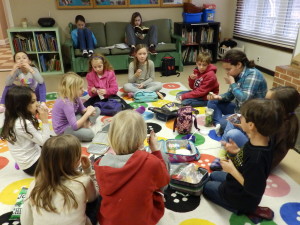 Harmony is a 2-day drop-off enrichment program that meets from Sept. to June on Mondays and Wednesdays from 9am-4.30pm.
Facilitators lead a maximum of 25 of children, ages 5-12, through their day with activities including Math, Language Arts, Art, Spanish, Music, Current Events and Nature Study Science.    
Currently accepting children ages 6+.  Tuition is $3,000 per school year, paid over 3 term installments.
Option to attend per term is available (Fall, Winter and/or Spring). 
Sibling discounts are available. As well as 10% when all three terms are paid prior to September.
Some members enjoy monthly or bi-monthly horseback riding for an additional fee (2015/16 fee was $35 per 1.5 hour class).
This year Education Elsewhere (12+ ages) is expanding to Mondays and Harmony/Elsewhere will be working together to make both programs successful. During this venture, sibling discounts will span across both programs.
If interested, please click HERE to visit the website for a more detailed overview and contact information.