ELSEWHERE PROGRAM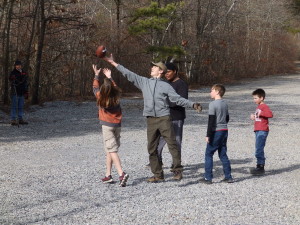 This homeschool enrichment program for children 12-18 years old meets 10:00am-4:00pm on Thursdays and 9:00-4:30 on Mondays.
A typical day includes 2 or 3 subject lessons, reinforcement of concepts through games, and outdoor time during which we can explore the Camp which spans over 140 acres.
We are working with Harmony Homeschoolers to serve the needs of all members. Mimicking the Harmony timeframe (9:00 drop off- 4:30 pick up) will allow families with children appropriate for both groups to bring them all on one day.
On Mondays, we will be offering horseback riding lessons, up to twice a month for an additional fee. (Likely about $40 for the 1.5 hour session). We are also working out details for Archery classes which would also require an additional fee.
Sibling discounts are available and will be honored across Harmony/Elsewhere programs.